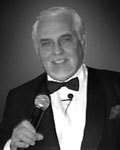 Well, I want to tell you all that Jerry Valley's Meet the Pros Interview/Seminar on stage hypnotism was the most popular yet!
Jerry Valley is THE Pro when it comes to stage hypnosis and if you weren't able to get on line for the live version of the seminar the other night I want you to know that you can get it now at http://www.BanyanHypnosisMall.com. Just click on the Meet the Pros Audio Seminars at the left side of the page and select him from the list of pros!
Jerry loves to talk about stage hypnosis, so if you are in the profession, or if you are thinking of learning more about how to get into the profession of stage hypnotism (or are even just curious about
it), you need to check out that seminar. You'll see that it is a lot of material!
It's free to listen to right now. Here is what you will learn:
-Why stage hypnosis is easier than "clinical" hypnotherapy.
-Find out the difference between stage inductions and "clinical" inductions.
-Who to call to get booked on cruise ships, even if you're a hypnotherapist!
-How to select the best people from an audience for demonstration.
-How to impress your audience so that you get lots of volunteers.
-How to figure out which volunteers are going to be the best subjects on stage.
-How to do free and paid demonstrations to build your stage or hypnotherapy business.
-How to make big bucks doing 1-hour demonstrations ($750 to start, much more later).
-How to get free publicity and advertising.
-Find out which people and what personalities make the best stage subjects.
-How to get over the fear of doing a stage hypnosis show.
-Find out if stage hypnotists should advertise in the phone directory.
-Find out why women can do better than men in the stage hypnosis profession.
-Learn how to make people really want to be in the show and perform!
-Learn what the youngest and oldest ages are for learning stage hypnotism.
-Learn about opportunities to get booked as a stage hypnotist that most don't know about.
-Learn how to handle problem volunteers.
-Listen to Jerry tell funny stories about his stage hypnosis performances.
-Learn how to become a working stage hypnotist by the end of the summer.
-How to legally add "as seen in Las Vegas" to your resume this year.
-Find out how to learn stage hypnotism through video distance learning.
-Find out how to get one-to-one training from Jerry Valley.
-How to save hundreds of dollars on stage hypnosis training, and get a special $100.00 discount just for downloading and listening to this seminar by April 10th!
I think you will enjoy listening to this interview/seminar with Jerry Valley as much as I did facilitating it. It was a blast! Jerry is the stage hypnosis performer, trainer extraordinaire! If you have questions
I hope you will also check out the many other seminars on the http://www.BanyanHypnosisMall.com website while you are there.