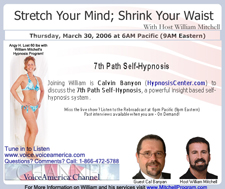 Just to make sure that everyone knows, if you like or even love 7th Path Self-Hypnosis® and would like to help me promote it, you can participate in my appearance on the VoiceAmerica.com radio program, hosted by William Mitchell. We are going to talk about 7th Path Self-Hypnosis® and as far as I am concerned the "more the merrier!"
I hope you will get up early and give the show a call. Here are the details:
1. When: Thursday morning on March 30 at 6AM Pacific Time, 8AM Central Time, and 9AM Eastern Standard Time.
2. Where: www.voice.voiceamerica.com, Stretch Your Mind: Shrink Your Waist, radio program with William Mitchell and Cal Banyan.
3. Call in Number: (866) 472-5788.
4. What: Call and talk about how 7th Path Self-Hypnosis® has helped you or someone you know. And, they are especially interested in weight loss, but it is not limited to it.