Congratulations go out to our latest graduating class! This was a special Hypnotherapy Certification Course for me because it was the last one at our Center in Minneapolis/St. Paul, MN.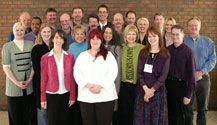 Click on the photo to read their feedback about the course and from previous classes as well.
We will continue our training programs from our new office which will be located in Orange County, California. We are waiting for the completion of the registration process before we post an exact schedule of courses. We expect that the registration process will be completed in a few weeks, which will enable us to have our first ever NGH Hypnotherapy Certification Course with 5-PATH™ and 7th Path Self-Hypnosis® in June.
By the way, we are going to have our Week of Power Advanced Hypnosis Course, with 5-PATH™ and 7th Path Self-Hypnosis® at this year's NGH convention. To register for the course call the NGH at (603) 429-9438, or use the link above to learn more about the course.