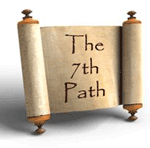 I was at Sam's Club, one of those discount mega-stores, the other day and this fellow came up to me, and surprised me a bit. He said, Mr. Banyan, you don't know me, but I want to tell you that I learned "7th Path" from one of your therapists and it changed my life. He then went on to tell me the story about how it changed how he felt about himself, and how he lost 30 pounds, "without even trying."
I don't write enough about 7th Path Self-Hypnosis®, the mind-body-spirit approach that I developed. That is because I am often at a loss for words and I don't really know how to tell you about it. I guess this is because I don't really know what it will do for you. I just know that if you use it, it will make positive changes in your life.
I do know that when I train Hypnotherapists and conduct advanced hypnotherapy courses, learning 7th Path Self-Hypnosis® is one of the greatest surprises to those students who have their lives changed by it. It is amazing what ten days of doing 7th Path Self-Hypnosis® can do for some people!
You can read what they say about the courses and 7th Path Self-Hypnosis® by clicking this link, Hypnosis Training. You will hear about it in their words.
Some 7th Path Self-Hypnosis® practitioners find that they experience emotional healing, and others even say that they have experienced physical healings. They report many different kinds of physical healings, ranging from pain being relieved, skin problems clearing up and more. I'm not saying that 7th Path Self-Hypnosis® heals anything. I believe what it does is it neutralizes internal stress and once that has been done, then your body is better able to heal itself.
How does this happen? It seems that our past can do more than just give us bad dreams or make us feel guilty. Our past can cause a kind of internal stress that can make you sick, or contribute to making you sick, or making a particular infirmity worse. 7th Path Self-Hypnosis® works by going in and neutralizing key issues from the past, as well as many different kinds of limiting beliefs. I like to say that, "It is the first antivirus software for the human computer, your mind".
So, I'll just say, I know I don't write much about 7th Path Self-Hypnosis® but it is not because it is not important. Actually I believe that creating 7th Path Self-Hypnosis® is one of the most important things that I have ever done. I hope you will take a look at it. I think that you will be glad that you did.