Its 7:30 a.m. and I'm in my hotel room right now as I type up this entry. We are waiting for a real estate agent to give us a call with the latest office sites to visit before we get on the plane this afternoon and head back to Minnesota.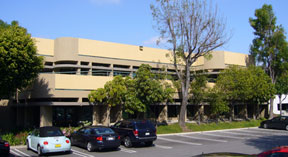 Here is a photo of one of the offices that we like so far. It is in the Irvine area. We have decided to lease for a year or two so that we can get a better idea of what we want to buy. There are just too many factors for us to consider before we will know just what kind and size of property we want to buy. For example, we are not sure whether or not we want to have just one office here in Southern California or two. If we decide that we also want to have an office in Los Angeles, then the size of our office in Orange County will probably be smaller. But if we are just going to have one office then the space will have to be larger so that it can house everything that we do, from hypnotherapy sessions, publishing, website development, product production and so on. We will keep you up to date as things develop.
On another topic, we think that we have found a home that we want to buy, and we are planning on making an offer today or tomorrow. This is all very exciting. The new house is just beautiful. By the way if you are not familiar with the OC area, you won't believe the price of homes. I just read an article about the real estate boom in OC, the average home price is around $600,000.00 and there are more homes priced in the $1,000,000.00 range than any where else in the country. Talk about "sticker shock"! And, the price of a home here is going up at a steady rate of 15% a year. Wow!
Click link for latest information about hypnosis training in Orange County, California.
Click this link for the latest information on hypnosis sessions in Orange County, California.