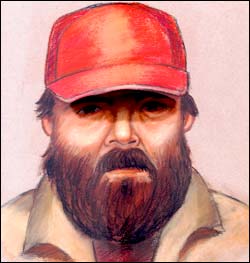 READ ARTICLE
Did you know that some police departments employ the use of hypnotists who specialize in enhancing memory and recall to provide clues about crimes? Well they do, and this time hypnosis was used to provide a detailed sketch that has lead to further leads. I want them to catch this guy!
Forensic hypnosis has been around for a long time. But it is not a skill that your average hypnotist has mastered. This kind of hypnosis can include hypnotic age regression where the emphasis is on being fanatical about not leading or over directing the client. Because individuals who have been hypnotized are in a heightened state of suggestibility, if the hypnotist is not careful she can cause the client to image details that did not actually happen, contaminating the whole procedure, rendering and information useless. Or even worse, creating false memories that can cause the hypnotized individual to blame the wrong person for the crime!
So have you seen this guy? If so give the hypno-cops a call. Read the article. It's interesting.
Cal Banyan
www.CalBanyan.com