By now you have probably heard about our new website, the http://www.banyanhypnosismall.com/, filled with "The stuff hypnotists want." Our new site has only been open for about a week or so and already we have over a 100 products listed. We plan on constantly adding new items, "The stuff hypnotists want."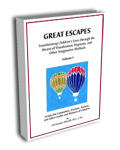 Our latest additions include the GREAT ESCAPES hypnosis script book series by Del Hunter Morrill, M.S., C.C.H., Counseling Hypnotherapist. This is a great series which has been very popular among the hypnotherapists at our office. Get them and you will instantly expand the scope of your practice!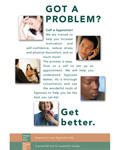 Also I want to tell you about some great looking signs and posters designed for use in your hypnotherapy office. I am very excited about them and had the designer, Kalli Matsuhashi, a Banyan Graduate, come and show them off at our monthly NGH Chapter meeting. Everyone loved them and thought that they would make a great addition to their offices. I think they really look great and will add a professional look to any office.
I hope you will check them out. Also, please email me if you have suggestions for books, CDs, DVDs or other items that make up "The stuff hypnotists want."
Here's to your success!