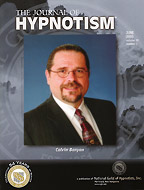 I want to publicly thank the National Guild of Hypnotists for honoring me by interviewing me and placing me on the cover of their Journal of Hypnotism, the world's most widely distributed journal dedicated to hypnosis.
I especially want to thank Dr. Dwight Damon for taking the time to interview me and allow me to voice my opinions about the direction of hypnosis and hypnotherapy.
I want to encourage everyone who is interested in hypnosis to become a member of the NGH. You can get more information about this leading organization by visiting their website at, www.NGH.net and tell them Cal sent you!
Click Calvin Banyan to see a larger graphic and to read more.
Cal Banyan
www.HypnosisCenter.com