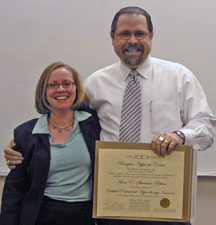 I am quite happy to introduce one of our contributors. Prior to opening her practice in Delaware, Anne Shuman Urban, BA, CH, CPHI worked at our center as a hypnotherapist, where she saw hundreds of clients a year for a vast array of issues. In 2003, she left our center to return to the East Coast to co-found Delaware Hypnosis Partners, LLC with Beth Keil, BSN, CH.
In addition to being a gifted hypnotherapist, she is an inspiring life coach and an experienced HypnoBirthing Childbirth Educator who teaches expectant mothers how to use hypnosis for a more comfortable, peaceful, and often pain-free birthing experience.
She is now proud to offer Professional Hypnotherapy Certification trainings which include intensive training in 5-PATH® Hypnotherapy and 7th Path Self-Hypnosis®.
Her credentials include:
Bachelor of Arts in Religious Studies (BA)

NGH Hypnotherapist Certification (CH)

BHC Advanced Hypnotherapy Certification in 5-PATH™ and 7th Path Self-Hypnosis&reg:

Aim for Excellence Certified Coach- HypnoBirthing Childbirth Educator(HBCE)

BHC Certified Professional Hypnotherapy Instructor (CPHI)
You can find more information about Ann on her website for Hypnosis in Delaware.