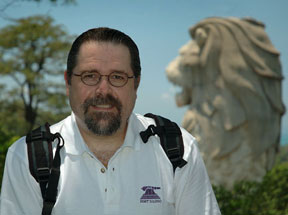 Right now I am in the middle of teaching a National Guild Hypnotists Hypnotherapy Certification Course in Singapore. It is great to have the opportunity to come to Asia and represent the NGH as I do.
Here is a photo of me with the famous Singapore Merlion in the background, which was taken on Sunday which is a day off during the course.
When I returned to class on Monday, a student asked me how long after I graduated from my NGH Certification course was it before I began practicing professionally. The students were stunned to find out that I graduated from my certification course in March of 1996 and began working professionally in July of the same year! They wanted to know how did I go into practice so soon? I thought, heck if I didn't have to find a place for my office, have a construction company come in and build it out for me, and then furnish the whole thing I would have started sooner!

When I said that, they asked why I wasn't afraid, and I told them that I was afraid, but I didn't let that stop me. You just have to decide that you are going to go through with it and then work like crazy to make your dream come true. Now we have one of the largest, if not the largest private centers dedicated exclusively to hypnosis and the teaching of hypnosis in the world.
Here are some tips for those who are thinking about getting serious about going into practice as a professional hypnotist or hypnotherapist:
Get the best training that you can. Make sure that the training will enable you to work with many different kinds of issues. This will give you the widest client base and greatly help you get your practice off the ground.

Learn from a school that teaches you a system of hypnotism and hypnotherapy so that you can learn a system rather than just trying all kinds of things until you get it right.

When you choose a trainer make sure that he or she offers training support materials. Yes, you can learn hypnotism and hypnotherapy in 100 hours of training, if you have a perfect memory. The rest of us need to study the material and having a good set of manuals, tapes, CDs and videos to review will be invaluable.

Make sure that the trainer that you choose will offer the following kinds of support: phone support, email support, email support group, marketing support and office set up support (i.e., all the forms that you will need to set up an office along with a system for running the office).

Make sure that part of the training includes some marketing tips, and to do this you need to make sure that the instructor has been successful at marketing his or her business.

Right after you graduate from the class, go over all of the materials that were provided in class. Really study them and rehearse the scripts and techniques that you learned in class.

Get a yellow pages advertisement. This can be expensive depending on the size of the ad and the population where you live. But I believe that unless you are a PR wizz then it is a necessity!

Get a web site. Make sure that you put your photo and location on the web site with all your relevant credentials. Make sure that you site contains a FAQ page so that you can tell you potential clients about hypnosis and yourself.

Do really great work and you will receive client referrals. This is one of the best ways to let others know about your work, and it is also the cheapest.

Last but not least, make sure that you are operating legally before you start! It would be a shame if you received all the right training, and then found out that you cannot practice where you live. For details about whether you can practice in your state contact an NGH Chapter near you. Go to http://www.ngh.net/ to learn more about locating a chapter.
While you are at it visit our Free Hypnotherapy Articles page and click on Article #27 to learn more about marketing using a web site, yellow pages and client referrals.
Cal Banyan
www.HypnosisCenter.com