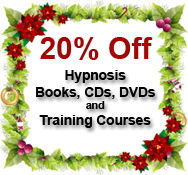 MORE TIME TO SAVE BIG! STILL 20% OFF EVERYTHING!!! ☺
How is that for FANTASTIC holiday news. You've earned it. Treat yourself and save big on your favorite *hypno-gift* (to yourself).
Start off the new year on the right foot by investing yourself and become a Hypno-1%'er in the hypnotism profession with our live hypnosis training programs and training materials.
For this week only, save 20% on all hypnosis training audio, books, videos, and even certification courses (everything). Special ends January 1, 2013.
Got Questions?
Give us a call at (800) 965-3390 or (714) 258-8380.